OILFIELDH20 NEW MEXICO
Water Management in the Permian Basin Just Got Smarter
OILFIELDH2O NEW MEXICO
In New Mexico's oil and gas domain, handling water isn't solely about volume—it's about mastering the intricate dynamics of the Permian Basin. With challenges posed by the evolving Permian Basin SRAs and concerns over induced seismicity, optimizing water management is more crucial than ever.
Introducing the NEW MEXICO OILFIELDH2O PLATFORM by B3 Insight - the leading force in comprehensive water intelligence. Not only does it provide water data, but it also delves into induced seismic events, ensuring your strategies stay ahead of regulatory curves.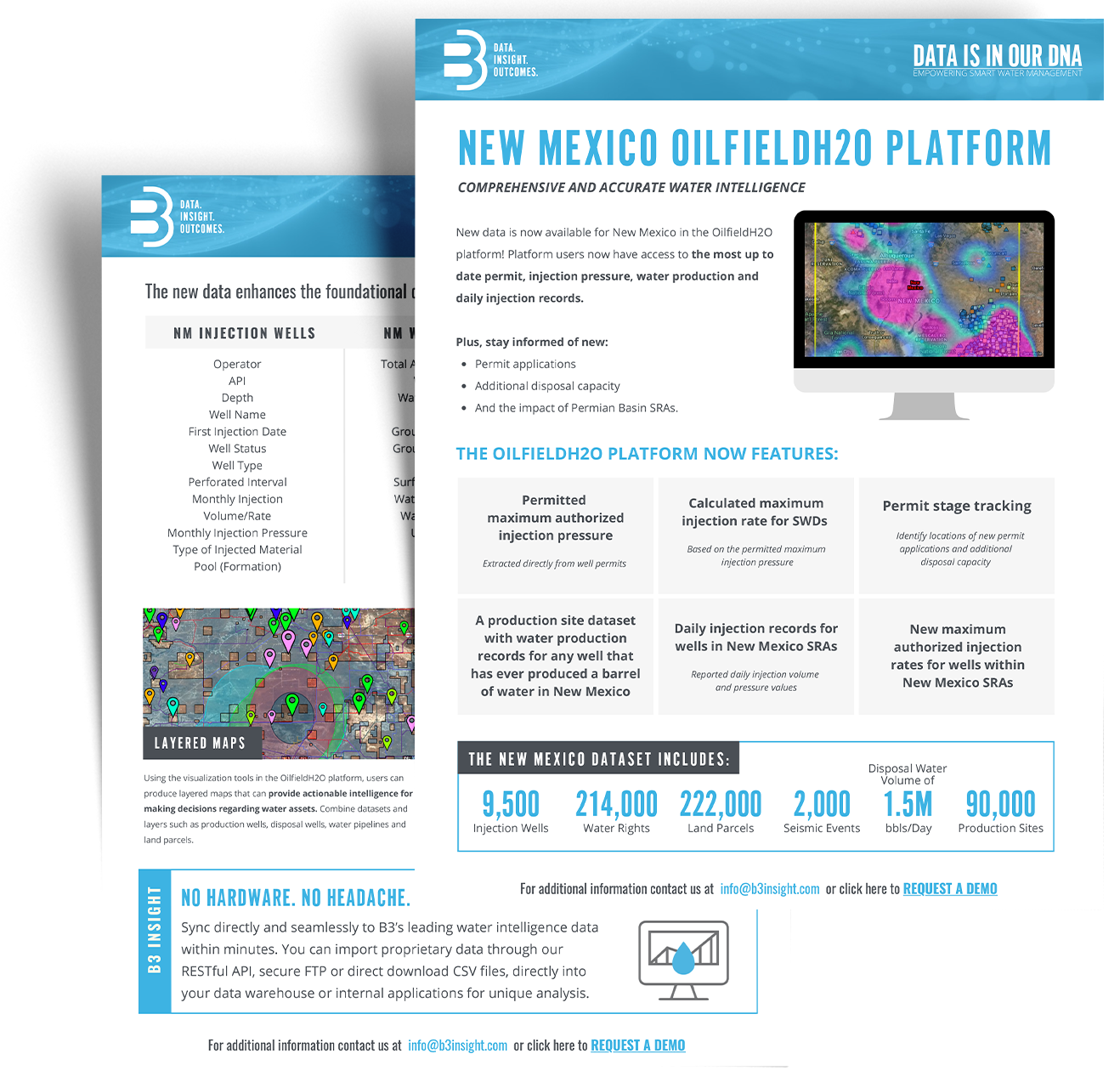 Why is This Your Next Essential Tool?
Injection Well Know-How - Navigate through 9,500 injection wells, understanding their nuances and more, in just a glimpse.
Land Parcel Intel - Enhance your strategic foresight with data on 222,000 land parcels.
Seismic & Regulation Insights - Stay informed on 2,000 seismic events and regulations affecting your water management operations.
Disposal Volume Dynamics - Visualize an immense disposal water volume of 1.5M bbls/Day and grasp its significance for your operations.
Excited to dig deeper? Discover the breadth of our data, from production sites, layered map insights, monthly disposal analytics, to the ease of zero hardware integrations.
Unlock Unrivaled Water Data Insights NOW!
Dive into the details. DOWNLOAD OUR FACT SHEET and let data drive your next big move.

Questions?
Reach out: info@b3insight.com or REQUEST A DEMO