OILFIELDH20 OKLAHOMA
Navigate Oklahoma's Water Management with Precision
OILFIELDH2O OKLAHOMA
In Oklahoma's oil and gas sector, managing produced water isn't just about volume and pressure—it's about navigating a 'shaky' underground landscape. With induced seismic events lurking beneath, water management becomes a tightrope walk.
Introducing the OilfieldH2O Platform for Oklahoma by B3 Insight.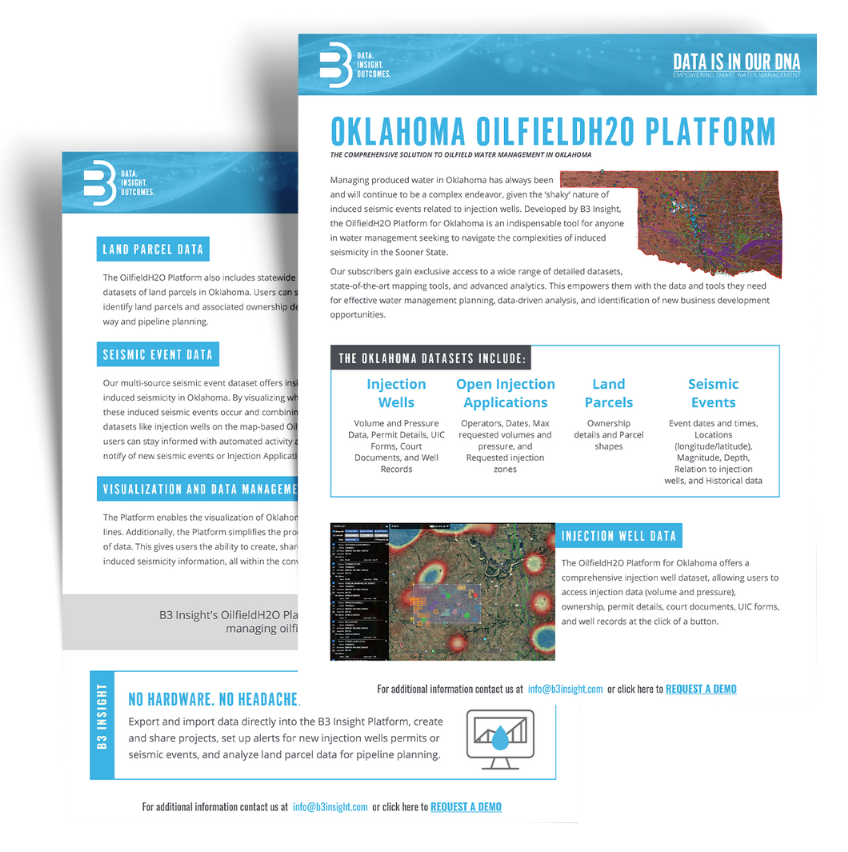 Why is This Your Next Essential Tool?
Injection Well Data: All your injection details, permit info, court documents, and more—in one click.
Land Parcel Intelligence - Comprehensive state-wide data to power your pipeline planning.
Seismic Event Alerts - Visualize seismic events and their ties to injection wells, with real-time alerts.
Ready to plunge deeper? Discover intricate layers like Alluvial and Bedrock Aquifers, fault lines, and seamless data management—all without any hardware headaches.
Unlock Unrivaled Water Data Insights NOW!
Dive into the details. DOWNLOAD OUR FACT SHEET and let data drive your next big move.

Questions?
Reach out: info@b3insight.com or REQUEST A DEMO